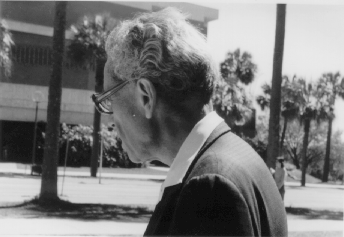 Paul Erdos (1913-1996) was a visitor to the University of Florida first in 1967, and then annually, for a two week stay, from 1973-1996. He interacted with many mathematical sciences faculty on campus, and wrote papers with several University of Florida faculty, including Krishnaswami Alladi, David A. Drake, Jean A. Larson, R. Daniel Mauldin (now at North Texas State), Stan Ulam, and Arun Varma.
The photo displayed here, by Jean A. Larson, shows Erdos in front of the J. Wayne Reitz Union, his favorite place to book a room in Gainesville.
In 1998-99, under the leadership of chair Krishnaswami Alladi, the Department of Mathematics initiated the annual Erdos Colloquium Lecture Series in pure mathematics at the University of Florida.
---
University of Florida * Mathematics * Contact Info

Please report problems to: www@math.ufl.edu
This page was created July 5, 2000 by Jean A. Larson.
Last update made Fri Jan 28 12:02:15 EST 2011.